Kevin Jones Keeps Hidden Valley Safe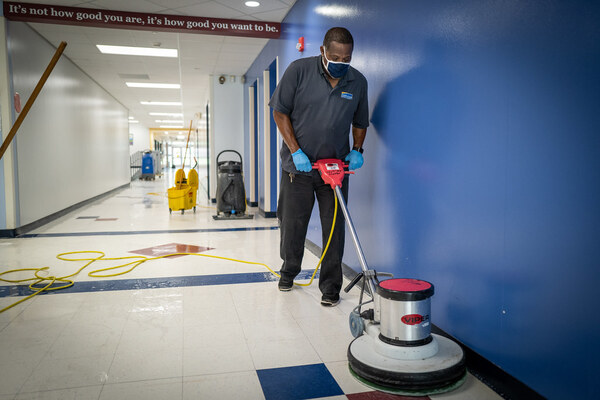 The impact of Coronavirus on Hidden Valley's staff during the 2021-2022 school year had many consequences. A position critically affected by Covid is our school's custodial staff.
Hidden Valley's Building Manager Kevin Jones was born in Roanoke, Virginia. Kevin began his career at the age of 14. It has been 30 years since then and he still takes pride in his work and the finished product of his efforts. Though he started at HVHS 10 years ago, during his time in this career he has been an employee of William Fleming and Patrick Henry. It does not come as a surprise that he enjoys this line of work because of his diligent work ethic and optimistic mindset. He is a friendly face for students and staff during these uncertain times.
As an essential worker during a pandemic, Kevin and his staff ensure that everyone at our school is safe. When asked what had changed in his work due to Covid-19, Jones said, "Not too much, mainly because even before Covid we sanitized the school daily." After learning how hard our custodians have always worked, we gained a new appreciation and respect for them. The custodians at HVHS have always put us first and continue to do so but are often overlooked. "My staff and crew are amazing. They sanitize everything daily so that we're all safe." We really admire the effort they consistently put forth. When asked about his safety concerns for Covid-19 he replied, "Nothing but the normal concerns, I mask up all the time." He says that one of the few benefits of Covid-19 is that it keeps us conscientious about washing hands and staying sanitary.
After we learned about some of the demanding work that is done by our custodians, we not only admire and respect them, but we also commend them for persevering through the disaster that is the Coronavirus. The last question we asked Mr. Jones was about any advice he had for HVHS students, he told us to "stay focused," "set goals for yourself and go for it." Once our interview ended, we left knowing that there is another person at Hidden Valley that is routing for all of us. So, students, if you ever happen to see a custodian at Hidden Valley, make sure to thank them for all the work they do for us.