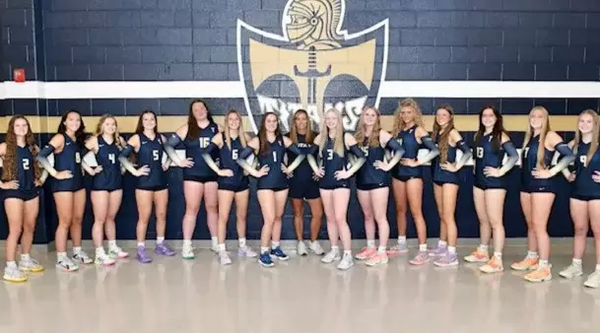 Last Thursday, at Hidden Valley High School, the varsity volleyball team won the district championship. The championship game was against the Lady Blue Demons of Christiansburg, and it was a nail-bitingly close game. While it was a 3-set victory for the Lady Titans, the sets went past the normal 25-point mark, becoming as close as 30:28, 26:24, and 29:27.
"I was nervous in the second set that we would lose since we were down so many points from the beginning, but we worked so hard and came back; the last few points in the third set felt so good to see my teammates hustling and then putting balls away," Shae Elle (12, Captain) recalled.
Highlights of this game included 28 kills, 3 aces, and 30 receptions by Caleigh Ponn; 2 aces, 4 assists, and 10 digs, 19 receptions by Lauren Whittaker; 11 kills by Sophie Arnold, 16 digs by Maddi Carter, and 35 assists by Calli Anderson. After the game, players were announced as all-district first and second team members. Caleigh Ponn, Sophie Arnold, Calli Anderson, and Lauren Whittaker all made the first team all-district. In addition, Shae Elle was recognized as an all-district team runner up.
"It's really exciting to be recognized [like this] and I feel like I have accomplished a lot this year," Sophie Arnold (11) said when asked about how it felt to make the all-district team.
Story continues below advertisement
Since this game, Hidden Valley has played Bassett High School and Tunstall High School in the regionals tournament, sweeping both schools in three sets and advancing to the regional finals. In Thursday's game vs. Tunstall, outside hitter Sophie Arnold was recognized for reaching her 500th career kill.
The team believes that they can make it to the state finals again this year, just as they did last year.
"We are officially in the state tournament, and we have a good chance of going to the championship. Teams are tougher this year than in the past, and I'm excited and I think that we can go far this year," Shae answered.
Sophie believes in their team's ability to make it all the way as well, "We are working hard in practice to make sure that we take home the trophy."
Hidden Valley faces off against Christiansburg again for the regional championship on Tuesday, November 7th at home. "Christiansburg is ready to give it their all on Tuesday, and we play them in the regionals every year, so we know that they will play their best game. But, if we do what we know what we know how to do, we can win again," Shae stated.
Come out and support the Lady Titans on Tuesday and watch them on their road to states.