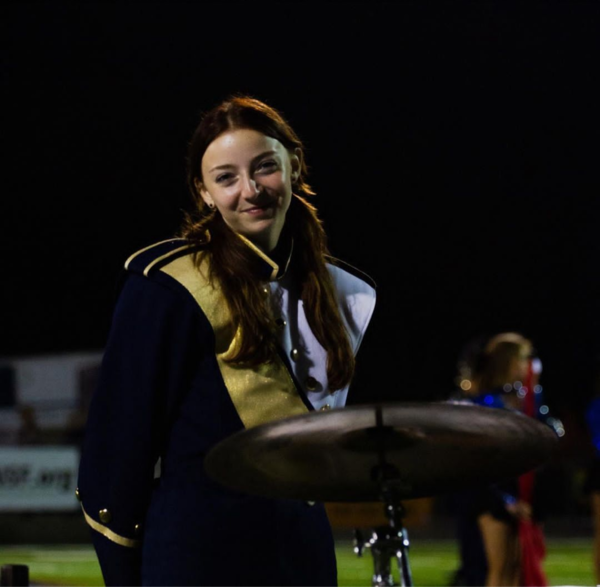 Many students enjoy the marching band's performance during football games, but the people that make it all possible are the students in the band pit. The band pit is part of the band, but they have the most responsibility outside of the team. Some of the big responsibilities the band pit has is unloading the band truck that holds all the bigger and heavier instruments. They handle what goes on behind the scenes of all the practices and shows.
"A big responsibility of the pit is unloaded our instruments off the truck. That includes the marimba, vibraphone, xylophone, bells/glockenspiel, and suspended and crash cymbals.'' Chloe Shearer (12).
The band pit crew has more of the heavy lifting responsibilities, but they have the opportunity to perform with the rest of the band. One of the many other things they do is having the responsibility of adding another layer of sound. When the marching band performs the students in the band pit also perform and add extra sound and harmony on top of the marching band's sound. The band pit ensemble is very important to the marching band and without them the band would sound very different.
"I wish people showed more appreciation for us in the ensemble because, even though we don't march, we are still very important to the musical quality of the halftime show." Isabella Shellnutt (11).
Story continues below advertisement
While the band pit might have a lot more responsibilities than any other part of the team, that doesn't mean they still don't have fun like everyone else. They have fun on the sidelines when everyone else is working on marching and sets. The crew still gets to make music, but they do not have to worry about the marching aspect of marching band.
"I love being a member of the pit because everyone in the section is amazing." Isabella Shellnutt (11).
Even though the band pit carries a lot of the responsibilities, the marching band wouldn't be the same without them.