Making Hidden Valley Diverse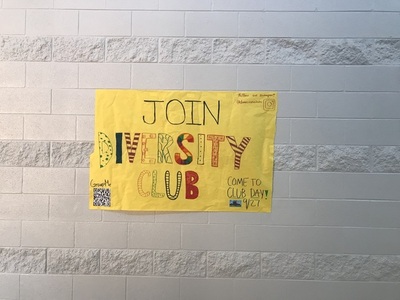 Diversity Club at Hidden Valley High School is creating a more diverse community for the 2021-2022 school year, and many more to come.
Here at Hidden Valley High School, the Diversity Club was started up a few years back by students as a project. Since then, the Diversity Club has stopped and started back up again. This school year it was started back up again by the club's new president, Jennifer Henderson (12).
Jennifer Henderson (12) said, "Roanoke County is 85.8% Caucasian which is reflected in our student body. Though it's important to remember that we aren't a cultural club specifically, which we are often thought to be. In diversity club this year we are planning on bringing more representation to Lgbtq+ youth because recent studies show that one in six gen z adults are Lgbtq+ identifying."
Diversity Club has two teacher sponsors, Mrs. Karandikar and Mrs. Griffin, and the club meets every other week in one of their teacher sponsor's classrooms. When they meet, they talk about diversity and activities they could do as a club to help students become more familiar with other cultures. The club goes out almost every weekend for festivals, movie nights, and other events for diversity.
Caylee Mitchum (12) commented, "Diversity Club isn't just about race, it deals with many other problems like Lgbtq+, Feminism, and so much more."
This club is all about making a more diverse and safe community for everyone at Hidden Valley, regardless of race, religion, sexuality, or gender. The purpose of this club is for everyone to feel welcome and included.
Caylee Mitchum stated that, "I joined to help create a welcoming environment for everyone at Hidden Valley that feels they might not fit into the standard norms, and to educate others about diverse cultures."
This club does so much with the people involved, while also bringing light onto our diverse community here at Hidden Valley. They go out to events that represent other cultures, genders and lgbtq+ students and Americans. Joining the club is super easy. All you have to do is show up to the meetings.
Jennifer Henderson expressed, "I thought bringing diversity club back to Hidden Valley would provide a sense of community to individuals who might not have felt acceptance or appreciation during such a rough time in everyone's lives."