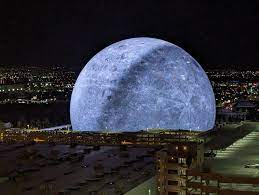 On September 29th, 2023, The Sphere opened to the public in Las Vegas, Nevada. Since then, The Sphere has blown up. People from all around the world are coming to watch concerts and events held inside The Sphere.
The Sphere is an 875,000 sq ft extraordinary music entertainment venue. Shows, events, and concerts are held in this arena. This dome-like stadium can hold up to 18,600 people, and that is just for humans attending the shows.
The Sphere took five long years to finally be completed. Not only did this project take billions of dollars, but it also had tremendous amounts of labor put into it. The partnership of the Madison Square Garden Company and the Las Vegas Sands Corporation built the Sphere.
Although, to most people this structure seems like a cool add-on to the Nevada area, others would disagree. There have recently been studies made on The Sphere that prove it is emitting light pollution and that it has many negative effects on the people in Las Vegas. Overall, people think the impacts will not be too dangerous but, over time could hurt the environment around it.
Story continues below advertisement
The first ever band to play in the largest technological venue was U2. Tickets went on sale with starting prices of $140. Their first show was on September 29th, 2023, the night The Sphere officially opened.
Even though there have been some issues with the venue, most people have called The Sphere an amazing experience. Addison Weaver (9) says, "I don't know much about it, but I've heard The Sphere is very popular." On almost all social media platforms, The Sphere has been getting tons of attention. Whether it is the graphic on the outside of The Sphere or the show happening inside, people are always interested.