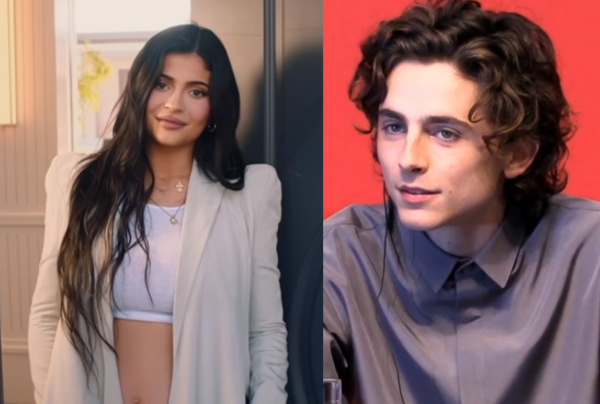 Since the beginning of this year, people have been suspecting a romance starting between American socialite and media personality Kylie Jenner and American French actor Timothee Chalamet. This has been trending on the internet since January and continues to be very talked about as we get more information on the pair. This rumored couple has the internet very shocked and there are lots of mixed opinions and rumors. Are these two confirmed together? Is this just a publicity stunt? Let's break it down.
The rumors started when these two supposedly met when they attended the same Jean Paul Gaultier fashion show in January during Paris Couture Week. The rumors skyrocketed in April due to sources spotting Kylie Jenner's Range Rover outside of Chalamet's Beverly Hills mansion. There were also reports of a date night the two shared in April. Sources started coming out saying these two have been casually seeing each other since January.
These were all rumors until June 1st, 2023, when the pair had their first pictures together since January. They were spotted outside of his mansion holding hands. People knew something had to be going on. In August, the rumors were shut down. Reports said these two had stopped going out and that the romance was indeed a publicity stunt. The rumor about the ending of these two didn't last long.
On September 4th, 2023, Jenner and Chalamet finally take their romance public. They arrived at Beyonce's Renaissance Tour as a pair. There were many videos of the couple in the crowd packing on the PDA. We finally knew the rumors of this couple had to be true and they were ready to show the world! It did not end here, shortly after they were spotted very clearly at the U.S. Open. There were many pictures of the couple looking like a couple. They looked very comfortable around each other, and you could tell they were together. There had been a few more sources about these two and we knew the rumors must be true.
Story continues below advertisement
Despite the couple seeming more comfortable publicly, some of the public does not share that same energy. This has been a very controversial romance all year with lots of different opinions on it. Kate Kadela (9) says, "I don't see them staying together for a long time because of how different they are and the toxic Kardashian/Jenner family atmosphere," but Ginger Barbour (9) says, "I definitely ship this couple, their differences make them seem compatible and they're cute together, I bet they will last a while." The opinions are all divergent but either way, Kylie and Timothee seem very happy in public!