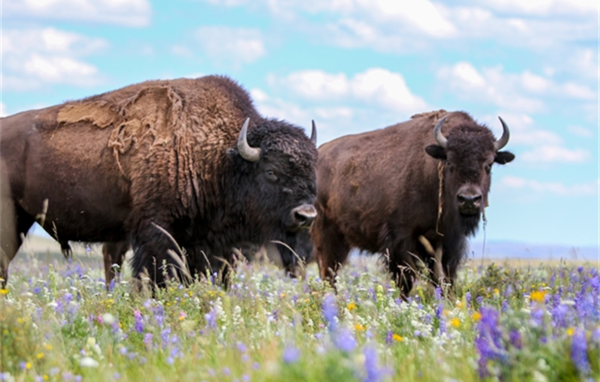 In the recent months, the Nature Conservatory and other conservation organizations have been reintroducing bison across America, Canada, and England to combat the global climate crisis by targeting individual ecosystems.
In the 19th century, bison were hunted down to the brink of extinction. Not only are bison important to their ecosystems, but they also have a cultural significance for Natives living in their habitats. Bison grazing promotes growth of new plants and the spread of seeds and nutrients. Camille O'Brien (11) said "I could imagine bison stomping on the soil will help aerate the soil and improve the landscape which is a great benefit. Bison reintroduction will help to balance and maintain a healthy ecosystem." Culturally, this reintroduction of bison represents a revival for indigenous tribes. This first step in conservation represents a greater movement towards restoration of our traditions and environment.
Mrs. Blankenship, our biology teacher here at Hidden Valley High School, said "I think reintroducing bison will increase the biodiversity in the area. It's good for them to be placed in their natural habitat, but some may consider this reintroduction negative as they have been missing from their natural habitat for a while and could be considered a non-native species."
Since conservationists have noticed so many benefits from this reintroduction, the Nature Conservatory and other conservation organizations are actively beginning restoration processes for other animals. Cheetahs are returning to India, vultures are in Europe, and China's wild horses are rising in population again after the brink of extinction.
Story continues below advertisement