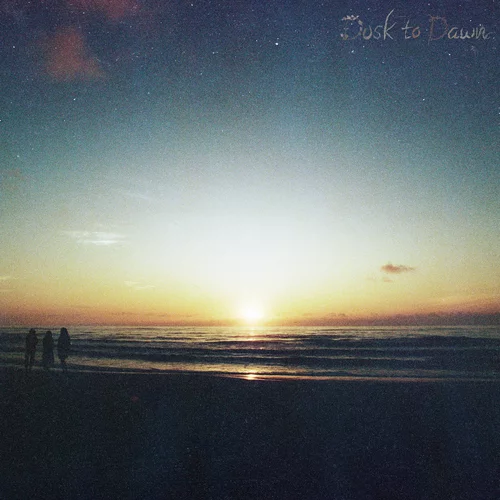 Lamp is a Japanese band formed in 2000. In recent years Lamp has gained a cult following on several social media platforms. The members consist of Kaori Sakakibara (vocals, flute, accordion), Taiyo Someya (guitar, synthesizer, vibraphone), and Yusuke Nagai (vocals, guitar, bass, keyboard). Lamp's previous solo album was Her Watch (2018). Their newest album, Dusk to Dawn, was released on October 10th, 2023. The album consists of twenty tracks and has an hour and fourteen-minute run time. The first and last track being titled 'Dusk' and 'Dawn.'
The opening track, 'Dusk,' opens in a tranquil atmosphere with the most dominant instruments being the bass and the keyboard. Kaori Sakakibara's vocals are the only ones present, but there are not any transcribed lyrics. The feeling that is induced reminds me of the days when I used to have long commutes from home to school. Once the weather starts becoming colder, early mornings and late afternoons are consumed by dark blue skies. The train lights were fluorescent, but you could not help the heavy feeling of sleep that looms over you.
The following track, 'The Last Dance,' opens in a similar manner, though it is not as slowly paced. When listened in order, the album gradually gains more energy in tone. Dusk to Dawn would not be described as an upbeat album nor a somber one.
Dusk to Dawn is an album you can listen to in late fall evenings and early winter mornings. A blanket of mist lays over the album. With the withdrawal of sun and harsh temperatures, the holiday spirit charms these months.
Story continues below advertisement
The last three tracks, 'Alone in my Room,' 'Night Drizzle,' and 'Dawn,' are all slow songs. The closing moments of the album remind me of feelings where you wake up cold in your room and bury yourself under the blankets or the silence that consumes a household once the holidays are over. 'Dawn' starts with a piano that is present throughout the entire track with Sakakibara's and Yusuke Nagai's vocals accompanying it. Other instruments such as the drums are guitar are also consistent in the track. 'Dawn' is one of the best songs and the ideal closing track to the album because of its atmosphere and title.
If you enjoy Dusk to Dawn, you will also enjoy Lamp's other albums. Kaede is also worth checking out as she has worked with Lamp on their previous album.
Final Rating: 4 Shields