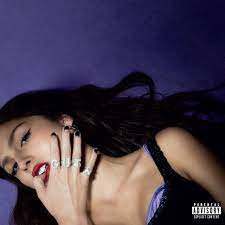 Fans cleared their schedule for September 8th, 2023, to get their first glimpse of Olivia Rodrigo's new album, GUTS. Rodrigo's new album was released on all streaming platforms, along with cassettes and vinyl. In earlier years, Rodrigo was known for her pop album, but fans speculate that this new era will transition her reputation into a more grunge vibe.
After listening to Rodrigo's newly released album, her goal is apparent: to give SOUR a cool older sister. Her newly released album is a cluster of sassy songs and poetic ballads. Although her music has matured, Rodrigo is sticking close to her roots of spunky songs about growing up as a young adult in the 21st century and learning from past mistakes.
One would be foolish to believe Olivia's lyrics come without meaning. Her creative hand wrote numerous lines that evoke emotions in listeners.  In Rodrigo's song, "Logical", she says, "Now you got me thinking 2+2=5… rain don't pour, and sun don't shine… sky is green, grass is red." Many fans theorize Rodrigo was hinting at the manipulation she received in her past relationships. She is showing how in order to love someone, she feels as thought she must love everything thing they do to hurt her. Her meaningful expressions connect the audience to her music.
Countless devoted fans were in ecstasy when Rodrigo dropped her new album. Ella Westerhold (9) said, "I enjoyed "The Grudge" because I feel like it really related to a situation I was recently in."
Story continues below advertisement
"Making The Bed was one of my favorites because I like how it implied that we get ourselves into these situations, so we can get ourselves out," said Addy Weaver (9).
Opposing fan, Savanah Nichols (9), stated, "If Olivia's music wasn't so mainstream, I believe more people would listen to her." Overall, the opinions of Rodrigo's new album vary and to each their own.
Rodrigo's first album had a sensational effect on society and led to her career as a musical artist. Her album had a lingering outcome that has forever changed the music industry. She has paved the way for her future albums and stands as an idol for other young female singers.