Euphoria Season 2 Review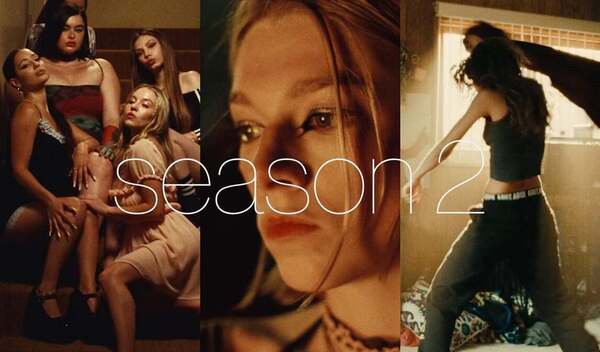 Euphoria directed by Augustine Frizzell and created by Sam Levinson took the world by storm when its first season premiered in June of 2019. Its second season's first episode recently came out on January 9th, 2022. This show has gained popularity because of its outrageous portrayal of modern high school life, and the acting done by newly discovered actors, and actresses. In season one we were introduced to Rue (main character), and her struggle with balancing sobriety and a relationship with new girl, Jules. Last season ended in a cliff hanger regarding both Rue's sobriety and her relationship.
Season two started with all characters attending a New Year's Eve party. Rue's arrival followed a flashback of Fezco, another character, and his unconventional childhood dealing drugs. We are brought to the present as Fezco and his brother drive Rue to the Party after making a dangerous deal. The party is attended by other characters including Cassie, Maddie, and Nate. A drunk Cassie flirts with Maddie's ex-boyfriend, Nate, which causes a close call being caught by Maddie. The unhinged party also follows Fezco having a long-winded conversation with Cassie's right brain sister Lexi, and Rue having an almost-overdose, before she runs into Jules fresh after her breakup. The party ands dramatically after Fezco attacks Nate in retribution of last season's plot.
Episode 2 of this season starts with Nate healing in the hospital, and Rue navigating getting back together with Jules. Nate's recovery is filled with fantasies of a relationship with Cassie, while still unsure of his stance with Maddie. While Nate heals Maddie is shown babysitting for wealthy families and having designer fashion shows in their closets once the children fall asleep. At this point in the episode, we are reintroduced to Lexi, who knows Nate's father, Cal Jacobs, is on the hunt to find his son's attacker. Lexi goes to Fezco's family store, unknowingly being followed by Cal. As Lexi nervously starts to converse with Fezco, Cal comes into the store and fills it with tension, He leaves once he buys a measly pack of gum. At this point we are brought to Kat Hernandez, a character that went through a major confidence crisis last season, and still struggles with it this season. Kat's main conflict is her lack of attraction to her perfect boyfriend, she finds herself unconfident in her body, as well as wanting a more passionate relationship. Episode 2 ends when freshly healed Nate confronts Cassie by telling her that any sort of relationship between them would end in violence from Maddie.
This show follows themes of teen drug abuse, addiction, mental health, and teen sexuality. The conflicts in the show are grossly exaggerated but do manage to urge problems in society today. Season two of Euphoria on HBO comes out with a new episode every Sunday. I would recommend this show for anyone looking for a drama-filled plot or interested in an exaggerated form of high school struggles. So far, after watching two episodes I would give season two 5 out of 5 shields, and eagerly await the rest of the season.