Squid Game Review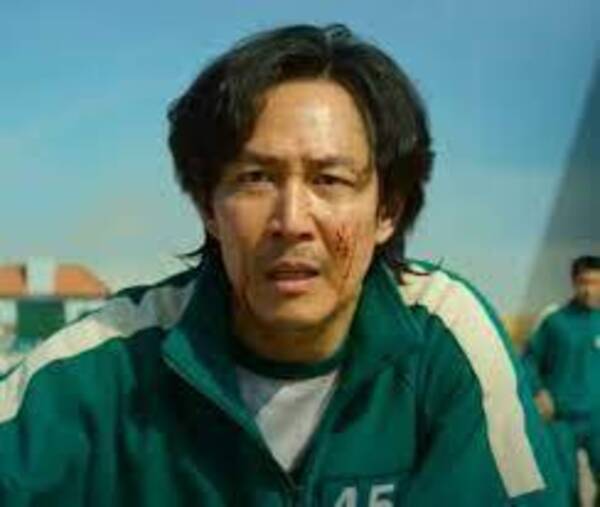 Squid Game, a Korean thriller premiered on September 17th and has since been in the top ten most watched shows on Netflix. The director, Hwang Dong-Hyuk, and musical composer, Jung Jae-il, have created a record-breaking show and are the genius behind Netflix's most successful program. The show takes place in South Korea, in an isolated island bunker with winding pastel staircases, warehouses with players' hundreds of bunk beds, and large game play spaces. The main plot follows Seong Gi-Hun (player 456) and his desperate quest to pay off debts and win back his family's respect.  
  Player 456 is brought into the game when encountering a scout of sorts, who is recruiting players. Once he is drugged in the transport van and brought to the game bunker, we see over 400 other players in almost identical economic circumstances. The first game and first episode 'Red Light, Green Light' plays the mentioned childhood game, but to the death. Players are shot with a sniper when they fail to remain still or fail to cross the finish line, in this scene we are introduced to several other lead roles and sub-plots. One being the bitter history between players 67 and 101, we learn in this sub-plot Kang Sae-byeok (player 67) is escaping North Korea and trying to earn money to take care of her younger brother, and that before she was conned player 101 was her loaner. Following the first game the players vote to end the competition in a majority rules manner and are transported home. Unfortunately, the reality of most players' lives is worse than the opportunity of winning the game and its considerable cash prize, and collectively players rejoin the game and move on to the next one. 
  The second game is one of sweets, players must remove a shape out of a sugar-honey hard cookie, using only a paper clip like tool. In this game unofficial teams or alliances are formed the main one followed has players 456, 1, 218, and 199. In the game you are executed if you can't get your sugar shape out in one piece, though player 456 found a way of helping by licking and thus melting the sugar, which saved other players' lives. After the second game is done, less than half the original players are alive. Player 67 joins the unofficial group of 456, 1, 218, and 199, in hopes of surviving murderous nights in the players quarters. During these first two games we are also introduced to the sub plots of Choo Sang-Woo (player 218), Han Mi-Nyeo (player 212), Ali Abdul (player 199), and Joon-Ho (police officer). A childhood friend of player 456 who failed in a prestigious career, an obnoxious and manipulative player creating further obstacles in the game, a kind and brave immigrant father who struggled to provide for a family in Korea, and a police officer who infiltrates the game in hopes to find his missing brother. 
   In the following games we are shown the true colors of once reliable teammates, the extent of struggle in players' lives, and the never-ending corruption in this long-going game circuit. After a later game 'Marbles' players choose a partner to play with, but then learn one of them is going to die, this episode was arguably the most emotional and telling. The show ends in a sad battle between childhood friends (456, 218) in 'Squid Game' which they played together in primary school. When Player 218 eventually loses the game in a heart wrenching way, we learn the efforts of a brave police officer are violently ended in vain and betrayal, and player 456's return to society is one of depression, trauma, and unending guilt. In the finale it is revealed one player who was thought dead is alive and is the orchestrator of the whole game. The last episode ends in a cliff hanger leading us to believe a possible season two will consist of 456's retribution. 
  The show follows loose themes of the gap between upper- and lower-class lives, the inability to have job security, and the sad reality that entertainment and money are valued greater than a life. Today a month later the show and its creators and actors still receive great praise on the craftsmanship and larger messages conveyed in the plot. This show earned 5 out of 5 shields.