Managing school and work
As students go on through high school, they realize with increasing independence, comes increasing responsibility. Many students at Hidden Valley High School have jobs for different reasons whether it be for money, to learn how to manage time, or to take on more responsibilities to prepare for college. Two students, Emily Sturgeon (12) and Emma Jarrett (12), were interviewed about where they work and how they feel about it.
Sturgeon (12) is a hostess at Café Asia 2. She seats people, picks up the phone, takes to go orders, and interacts with costumers.
"I was motivated to get this job because I wanted more responsibility in my life and I wanted to have money so I can buy things for myself without having to rely on my parents," said Sturgeon (12).
Sturgeon's boss at Café Asia 2 is super flexible with switching shifts and understanding that things come up. Even though her boss is super flexible, she still finds it to be too much on top of school, working about 12 to 20 hours a week.
"Last year was a lot worse, but this year I am handling my time much better because I try to get my work done during school," said Sturgeon (12).
Sturgeon works with two other students from Hidden Valley, Neely Hurst (12) and Reagan Kidd (11). She recommends this job to other high school students because Café Asia 2 teaches how to have a good work ethic and it also looks good on college applications.
Jarrett (12) had very similar responses about her job at Mellow Mushroom. She is also a hostess and answers the phone, takes to go orders, seats people, and brings people their food.
"I was motivated to get this job because I think it is important to have some sort of part time job experience before I go into college and I wanted to be able to make my own money," said Jarrett (12)
Just like Sturgeon, Jarrett is allowed to switch shifts with her coworkers if something comes up and she is not able to work. While working 14 to 16 hours a week Jarrett can find it to be too much if she has a test the next day, but she tries to get her studying done during school. Jarrett works with two other student from Hidden Valley.
Overall Sturgeon and Jarrett both like their jobs at Café Asia 2 and Mellow Mushroom. Even though they have struggled with time management they have learned so much and think that other students at Hidden Valley should consider getting a job to improve their life skills.
About the Writer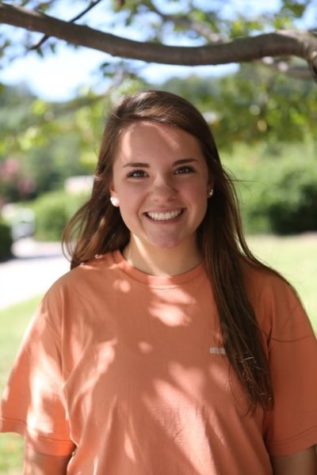 Julia Brown, Reporter
Hi, I am Julia Brown, and this is my first year being a Titan Times newspaper reporter. I play both travel and school soccer and enjoy hanging out with...